2022 China (Chengdu) International Petroleum & Petrochemical Technology and Equipment Exhibition will take place on May 26-28, 2022 at Chengdu Century City New International Convention and Exhibition Center. With an exhibition space of 30,000 square meters, cippe Chengdu is expected for 400+ exhibitors and 20,000 person-time visitors, acting as a one-stop platform serving oil, gas and petrochemical industry in Southwest China.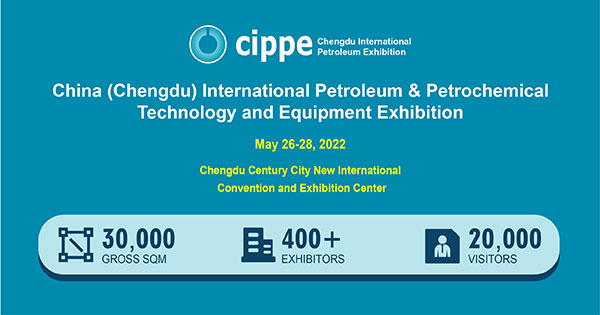 Majorly Showcase in 12 Sections
cippe Chengdu will mainly exhibit products and technology in sections of petroleum and petrochemical, natural gas, pipeline storage and transportation, oil & gas digitalization, shale gas, city gas, hydrogen energy, trenchless, explosion-proof electric, safety protection, automation & instrumentation, energy conservation and environmental protection.
Exhibitors Preview:
✲Sichuan VACORDA Instruments Manufacturing Co., Ltd. (Stand: B290)
VACORDA is a professional manufacturing enterprise integrated in R&D, production and sales of instruments, automation devices and equipment, with a high-precision flow calibration and detection line. VACORDA was recognized as a national high-tech enterprise in 2013 and obtained CE certification in 2015. Its main products are:
1.Magnetic level gauge, magnetic level switches, magnetic level controllers, bicolor quartz tube level gauge, boiler water level gauge and glass plate liquid level gauge, capacitance level gauge, ultrasonic level transmitter, radar level transmitter and liquid (material) level switch series;
2.Wedge-shaped flow meter, metal rota-meter, V Cone flow meter, throttling device, electromagnetic flow meter, vortex flowmeter, turbine flowmeter, ultrasonic flowmeter;
3.Pressure transmitter, differential pressure transmitter series;
4.Temperature transmitter, bimetallic thermometer, thermocouple, rtd series.
✲Henan E-Work Industrial Equipment Co, Ltd. (Stand: B07)
Work is a comprehensive manufacturing enterprise integrated in R&D, production and sales of pipeline cold cutting tools. As a pipeline treatment expert, its pipeline cold cutting tools are well recognized by customers such as PetroChina, Sinopec, China Resources gas, ENN gas and others with their high-performance product.
✲Jiangyin Huaxi Flange Co., Ltd. (Stand: B286)
Jiangyin Huaxi Flange Co., Ltd., a subordinate enterprise of Jiangsu Huaxi Group Co., Ltd., is the enterprise of flanges and pipe fittings in China. Founded in 1984, the factory specializes in the production of outlet flanges. In 1990, the factory established Jiangyin Huaxi Flange Co., Ltd. with Singapore Towa Hardware Private Co., Ltd.
At present, the company annually produces 50,000 tons of ring-type forgings, finished flanges and pipe fittings made from stainless steel, carbon steel, alloy steel, dual-phase steel and many other materials, with over 10,000 specifications and varieties. The products have been exported to 28 countries and regions, such as Japan, America, France, Germany, Italy, etc.
The company is capable of producing standard flanges and pipe fittings in accordance with JIS, ANSI, EN, DIN, BS and GB domestic and international standards, and producing ring-type forgings, non-standard flanges and pipe fittings according to customers' drawings or samples.
Contacts:
Exhibit: 8610-56176968, cippe@zhenweiexpo.com
Visit: 8610-56176959, visitor@zhenweiexpo.com
Media Partnership: 8610-56176962, yolanda@zhenweiexpo.com